I'm excited to announce the third edition of my book, THE TECH CONTRACTS HANDBOOK. You can buy a paperback or e-book from Amazon and other retailers or direct from ABA Publishing. It's for both lawyers and businesspeople, including contract managers and procurement staff. (It's selling fast, but don't worry if Amazon says "out of stock." You can still buy and will have your copy soon.)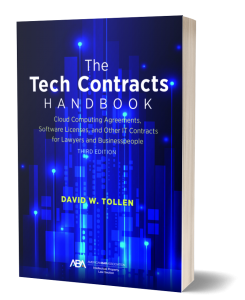 The earlier editions have consistently ranked as the #1 bestseller from the IP Section of the American Bar Association. The book is a practical, user-friendly reference manual and training guide, covering cloud computing agreements, software licenses, and other IT contracts. It's a clause-by-clause "how to" resource — explaining the issues at stake and offering negotiation tips and sample language.
The third edition has been updated and expanded, including with new clauses on privacy. But it's just as simple and clear as ever.
Here are just a few topics in THE TECH CONTRACTS HANDBOOK: Cloud Computing Agreements, Software Licenses, and Other IT Contracts for Lawyers and Businesspeople, 3rd ed.
Data management and security
Indemnities
Software-as-a-service (SaaS) and other cloud subscriptions
Service level agreements (SLAs) and warranties
Open source software
On-premise software distribution contracts
Technology escrow and SaaS step-in terms
SaaS transition and deconversion
Intellectual property licenses
Internet and e-commerce
And much more …
We've also updated the free sample terms here at TechContracts.com. And we're running webinars related to the 3rd edition's content.
I hope you'll go get your copy — and please tell anyone you think might benefit!
/David