THE TOOLS TO DO TECHNOLOGY CONTRACTS BETTER, FASTER,
AND WITH MORE CONFIDENCE
---
The Tech Contracts Handbook
Draft, negotiate, and understand cloud computing agreements, software licenses, and more—through this plain-English reference manual and training guide.
A perennial #1 bestseller from the IP section of the American Bar Association, The Tech Contracts Handbook is for lawyers and business people – anyone responsible for contracts. This "how to" guide uses simple English and examples to cover key issues, negotiation tips and sample contract language.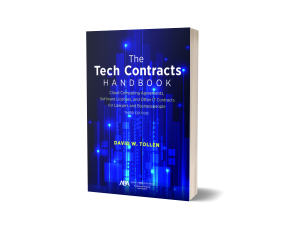 Access Free Tech Contracts Academy
®
Resources
Read Our Articles
Your Portal on Information Technology Contracts, Forms, Articles, Training, and More.
Read All