Last month, the U.S. Department of State started requiring that visa applicants list their social media handles. Would-be immigrants and visitors to the U.S. don't have to provide passwords, but they do have to provide their "identifiers" on Facebook, LinkedIn, Twitter, and other networks. The new requirement apparently drew little attention outside immigration law circles, but it's worth some thought. The federal government has now identified social media as a source of information for routine operations. It seems likely we'll all be disclosing social media identifiers on government applications in the not-too-distant future. I don't mean to raise privacy alarms; that's a subject for another post. Nor do I see obvious implications for tech contracts. But those of us who deal with privacy need to understand the evolution of private information. Casual online conversations long ago moved from private to potentially public. Soon, they'll be routinely public.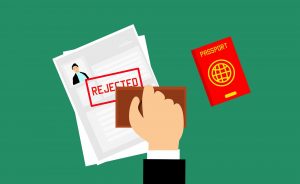 Until now, casual conversations with friends and family lay outside the realm of normal government operations. Unless the government was investigating you as a possible criminal, Supreme Court justice, or CIA agent, it wasn't going to learn much about your personal life. It wasn't going to demand summaries of personal conversations on applications for pilot's licenses, student financial aid, welfare, etc. But government recognition of social media changes the dynamic. Unless you avoid public posts — unless you restrict all your social media activity to "friends" — the government can easily find out if you're a likely alcoholic or religious fanatic. All it has to do is demand your social media handles. From there, a simple program could determine your probability of X, Y, or Z behavior. It's hard to imagine the government passing up such a goldmine of easy data. The State Department is leading the way.
The implications for privacy in law and in contracts remain to be seen. But the realm of private information just got a little bit smaller.
See the State Department's FAQ's on its new visa applications if you'd like to learn more. See also my recent Update on State Privacy Law.
David Tollen is the author of The Tech Contracts Handbook, the American Bar Association's bestselling manual on IT agreements. He is an attorney, expert witness, and the founder of Sycamore Legal, P.C., a boutique IT, IP, and privacy law firm in San Francisco. His practice focuses on software licenses, cloud computing agreements, and other IT transactions. David also serves as a lecturer at U.C. Berkeley Law School. Finally, he is the founder of Tech Contracts Academy and our primary trainer.
© 2019 by Tech Contracts Academy, LLC. All rights reserved.
Thank you to Pixabay.com for great, free stock photos!