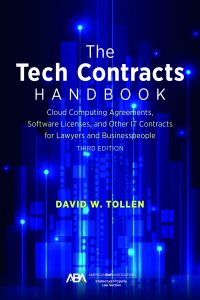 We're very excited to announce the third edition of The Tech Contracts Handbook — to be released by ABA Publishing later this month!
From the back cover: This practical reference guide is ideal for both lawyers and businesspeople, including contract managers, procurement officers, IT staff, and anyone else responsible for contracts. Perhaps most important, this book is accessible, clear, and precise—like a good contract.
The book will be available in print and e-book, and you can buy it from Amazon, the American Bar Association, and other retailers.
We'll let you know as soon as it's published …